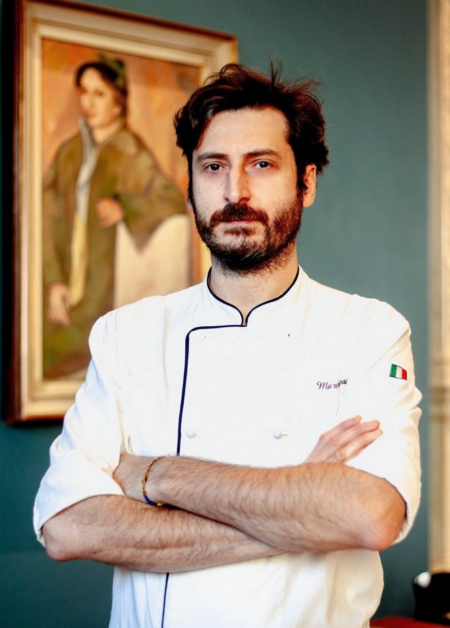 Marco Valneri, was born in Erba in 1977, in Brianza. Since he was a child he was passionate about the culinary art since his parents owned a historic village bakery. After finishing kindergarten, he moved to Switzerland to approach the world of catering by attending the Technical Hotel Institute of Lugano and started to work at "Hotel Parco Maraini" in Lugano.
After graduating, he began his career between Italy and Switzerland and then moved to Belgium, in Brussels, where he remained for three years. At the hotel "Conrad International" he meets the French cuisine and pastry to expand their background and refine their techniques. Always intrigued by ethnic cuisine, he decided to move in the early 2000s to Egypt, where he worked at the hotel "Conrad International" as Chef, for two years.
Enriched with inspirations, perfumes and unusual combinations, he moved to London for about three years at the "Grange City Hotel" and then moved back to "Sharm el-Sheikh" at the "Ritz Carlton Hotel". The continuous travel has been essential to define his professional figure as a Chef and stimulate him in his "eclectic cuisine" that draws from several different cultures. In 2005 he returned to Italy where he worked at "Hotel Principe di Savoia" for about a year.
Later he decided to devote himself purely to a type of retail cuisine, thus abandoning the hotel sector and began his job as Chef at the restaurant "Fioraio Bianchi Caffè" for about 9 years working in an artistic context where flowers, colors and flavors blend with each other.
He then began to get passionate about the concept of Catering, at the bistro "Ca'Turati", where he worked around Milan, exploiting the new techniques of "food invention".
From September 2021, until today, he is engaged at "Caffè Fernanda" in Brera, in the heart of art, where he has the opportunity to be inspired and inspired with his dishes.